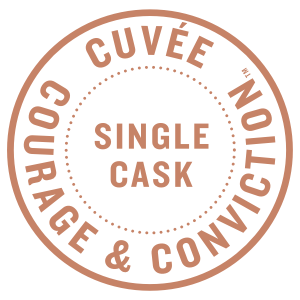 HAVE THE COURAGE TO BE
EXTRAORDINARY
HAND-SELECTED, ONE-OF-A-KIND WHISKIES
As our blenders taste the progress of whisky aging in Cuvée casks, a few special discoveries are hand-selected and set aside. These extraordinary casks show a range of depth and complexity, maximizing the influence of both the specialty Cuvée red wine cask and Virginia's varied climate.
WHAT ARE CUVÉE CASKS?
Cuvée Casks, known in the industry as STR casks, were pioneered by the late Dr. Jim Swan. In its simplest definition, this process consists of shaving (de-charring), re-toasting and briefly charring used barrels before they get their second life aging whisky.
FIND SINGLE CASK NEAR YOU
Learn what goes into hand-crafting each batch of our American Single Malt Whisky. From our malted barley, to our copper pot stills, and everything in between, we'll walk you through our process.